What is polished concrete?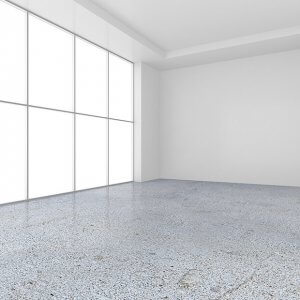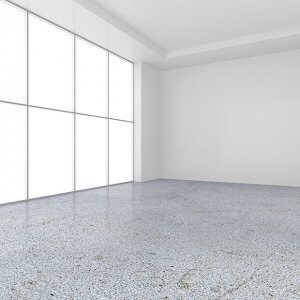 Polished concrete is the process of taking abrasive diamonds and mechanically scratching the concrete.  As the scratching process continues the diamond tooling will be changed to finer grits to remove the previous scratches made and to create new smaller scratch profile.   The goal is to refine the concrete to the point that the scratches disappear and a reflection can be seen in the concrete.  During this process, the concrete will be treated with densifier.  This product helps fill small microscopic valleys in the concrete, strengthens and hardens the concrete, and also helps stop your floor from dusting.  The final chemical applied to a polished concrete floor is typically called guard.  Polished guard is similar to a concrete sealer but is designed for polished concrete and its purpose is to protect the polished area from stains and spills.
Polished Concrete Finishes
There are four different levels of gloss finish.
Level 1 is flat finish.  The reflective sheen is none to very low.
Level 2 is a satin/matte finish.  The reflective sheen is low to medium.
Level 3 is semi polished finish.  The reflective sheen is medium to high.
Level 4 is highly polished finish.  The reflective sheen is high to highest (mirror like).
Polished concrete also has many decorative characteristics. It can be dyed to add color, designs and logos can also be installed. You are mostly only limited to your own imagination.
Some quick benefits of polished concrete:
Low maintenance cost compared to tile and other flooring options
Increased ambient lighting in your facility
Hardens and strengthens existing concrete
LEED friendly
Improved floor flatness/reduced tire wear
No cure times
No need for production shutdown
Because of these benefits, you will find polished concrete in many different settings, such as retail, warehousing, industrial, commercial, office buildings, showrooms, residential applications and more.