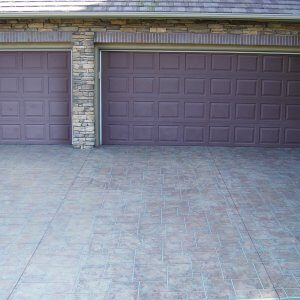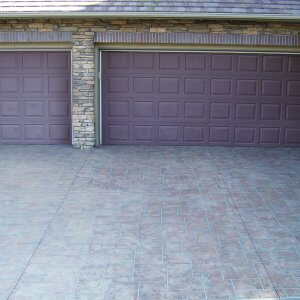 S. I. Concrete is a commercial and residential concrete contractor for the Greater Cincinnati and Tri-State Area with over 40 years of combined experience. We pride ourselves on having the right knowledge when it comes to preparation, mix design, and appropriate finish to ensure your project is planned for success. We also possess the skills to executed your project to the highest of industry standards. There are no short cuts to success; so none will be taken on your upcoming project.
Residential Services
Everything from a new driveway, porch, patio, pool deck, walkway. If it pertains to concrete and your home, S. I. Concrete does it all. Now, we know there are a lot of contractors that provide these services; but there are very few that provide the S. I. Concrete advantage.
Commercial/Industrial Services
Is your company in need of new equipment pads, a reinforced slab for heavy machinery, new entry or walkways, retaining walls, expansion? If so, allow S. I. Concrete the opportunity to be involved in your concrete project. We have the skills and experience to navigate these larger projects, while also providing possible alternative solutions for your budgetary concerns.
Decorative Services
If standard grey concrete just isn't your thing, then it is time to start considering other options. Those options can be different types of sealers, integral color, stains, dyes, stamped, concrete creations,
Sealers – Sealing concrete is necessary if you are looking to protect your new or existing concrete surfaces. Sealer can have different effects on your concrete finish when it involves sheen. We carry a wide variety of sealers to fit your needs, from matte finish to high gloss and everything in between.
Integral Color – The coloring process involves obtaining the color pigments and adding the pigments to the concrete mix. When mixed properly, the color will be consistent in finish and throughout the depth of the slab.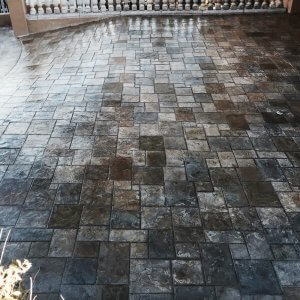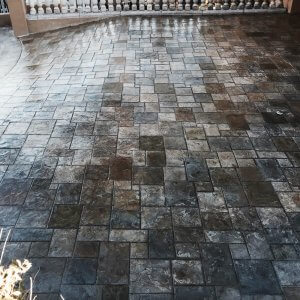 Color Hardener – Color hardener is broadcast on the new concrete surface. This process can add durability to the slab and in some cases double the compressive strength of typical concrete.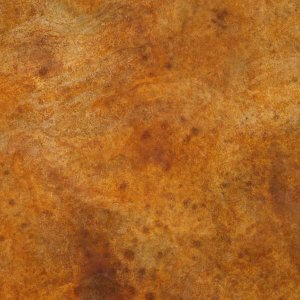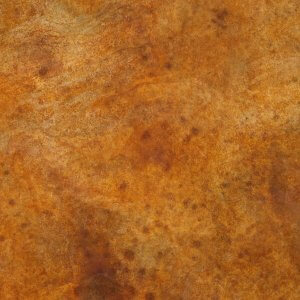 Staining/Dyes – There are two types of concrete stains: one that is reactive and the other that is non-reactive. Reactive stains create a chemical reaction when they are applied to the concrete. What creates the color is when the metallic ions from the reactive stain chemically react with the free alkaline in the cement forming oxides that produce visible color. This color becomes permanent in the concrete slab and will not peel or chip. Reactive stains are good for earth-tone colors.
Most non-reactive stains are water based acrylic stains, which most call dyes. These dyes are also penetrating and non-topical. They will not peel or chip and there is a larger color selection to choose from. Picking a reactive stain or non-reactive stain really depends on the type of appearance you are looking for.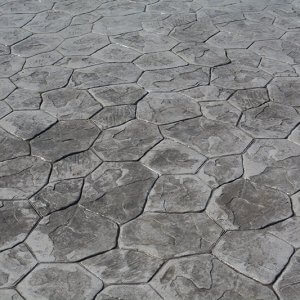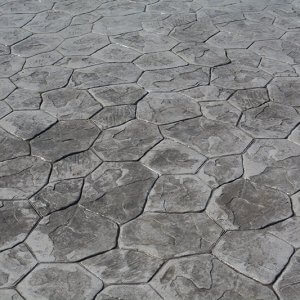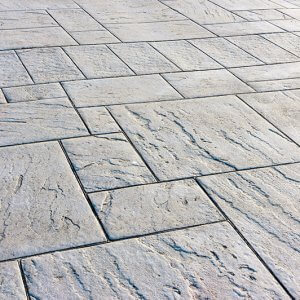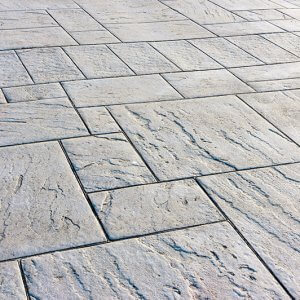 Stamped Concrete – Concrete that is patterned and textured to resemble brick, flagstone, slate, stone, tile, wood and various other designs. Typically, two colors are chosen when doing stamped concrete. One is for the base color and the other is used to accent the body, which in the industry we call an antique look.
Concrete Creations –We take poured concrete and transform it into rock formations, water features, carved stone walls, fire pits, etc. Share with us your creative ideas so we can help you make them a reality.